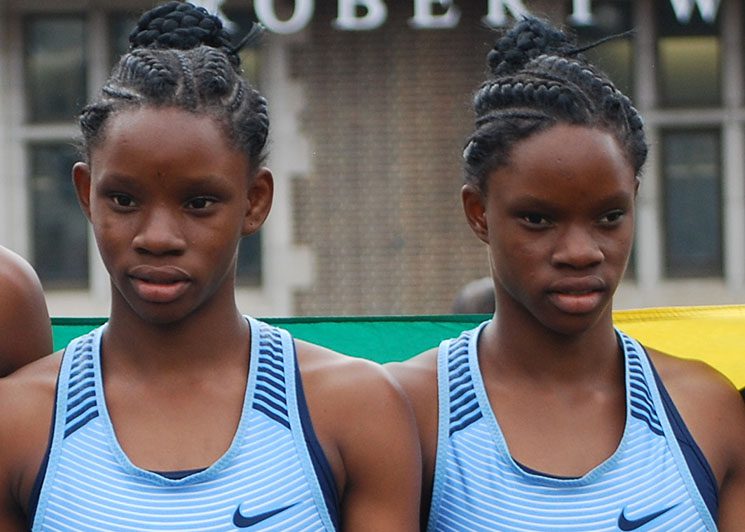 Jamaican Twin Girls Set To Go Pro
There are so many moving targets in Jamaican track and field, I can hardly focus on one thing. At the heart of these targets is the Jamaican saying: "Ef ih nuh guh suh, ih nier guh suh" (when you hear a rumor, if it's not exactly the truth, parts of the truth lie somewhere in the rumor.)
Quite recently, rumors began circulating that 17-year-old World Under20 100m champion Tina Clayton (left) and her twin sister, Tia, (photo above) would not be returning to their school, Edwin Allen High, after graduation and would be joining Elite Performance Track Club, where defending World 100m champion Shelly-Ann Fraser-Pryce trains.
Shortly thereafter, another story reached social media that Adidas, Puma, and Nike were relentlessly circling the water for Tina ever since she clocked 10.96 at the Jamaica trials. That first rumor quickly fizzled out, but the second one was still in the air when the real news broke; the Clayton twins, in fact, are not returning to Edwin Allen but, as professionals, will be joining MVP, the former track club of Fraser-Pryce and Elaine Thompson-Herah, and Shericka Jackson's current training ground.
The original rumor, therefore, had some truth to it, but where certain details were omitted, speculation filled in the blanks and set tongues wagging as enquiring minds wanted to know.
A July 7 report by Andre Lowe of the Jamaica Observer newspaper who made the story public said the legendary Stephen Francis will coach them, which leads me to believe that if, in fact, Francis will be their coach, then they'll be sponsored by Nike because Francis himself said he is paid by the shoe company to coach only their athletes.
Francis has said that he rather not coach star athletes but those with some talent to whom nobody gave a chance and who have a desire and willingness to be disciplined. In that case, he does not go after the winner or even maybe one who reaches the final.
Why Go to MVP
So why did he take the twins, particularly Tina, a global winner? This could be a case of which Nike might have offered them the lucrative package deal and requested that he coach them. In addition, based on the closeness between the twins on and off the track, it is unimaginable that a sponsor would be allowed to break up this matching pair. It would be both or none. Stephen's brother Paul (an excellent coach at MVP), on the other hand, coaches Jackson (Puma) and others not under Nike.
Either way, one must acknowledge MVP for its business savvy and how it epitomizes another adage, "When one door closes, another opens".
Rewind to 2008 when the club had Sherone Simpson as the top sprinter before Fraser-Pryce (Beijing silver and gold, respectively); then Simpson left after Fraser-Pryce usurped the number-one spot. Thompson-Herah arrived later and became the number one and Fraser-Pryce left. The next in the trend was when Thompson-Herah left when Jackson started to rise.
If Jackson, the current number one, leaves, the next in line could be Shockoria Wallace. I believe that right behind her will be the twins. After them, who knows who's next. It might just be Tina and Tia Clayton.
One thing is certain, MVP is never without a world class female sprinter.
At this point, I hope Tina and Tia Clayton got a sweet deal that includes paying for their college education and setting them on a path to bigger success.